'If you have any questions, I am here…'
May/June Sator Print workshop Siena 2023
The space within the workshop offered the opportunity to interact with the public, the subsequent work arose from examining this situation and being open to the tension of the working process as performance.
A time-lapse animation shows the construction of a mechanical device that slowly draws a length of the printed roll through an Indigo bath.
​
​
In this iteration of 'Hoist', two plywood panels held a mirrored offset projection. The digital set-up built using Isadora software combines time-lapse images with sound clips recorded within Sator Print workshop.
The space situated between a small music school and the workshop gives rise to uncanny overlaps of sound. This specific iteration includes a recording of a violin rehearsal of Elenor Rigby and the sound of the workshop guillotine.
Recordings from the school were made with the kind permission of the director Renata with special thanks to her wonderful students.
The software randomly draws on a library of collected sound clips making each presentation unique. All aspects of the animation are variable in terms of speed and direction of playback.
The sound clip arrangement was captured during an open evening on the 28 May 2023
Indigo Drops x4
6.8m of 9.2m produced during May/June 23
Gif animation using elements from the documentation of 'Hoist'




Here showing the plywood panels that held the projection



"Hoist' Installation view May 23 Siena
The strategy of mechanising some aspects of production was adopted; its purpose to enable the artist to become an observer along side the visitors, opening the possibility of shared speculation on the unfolding work.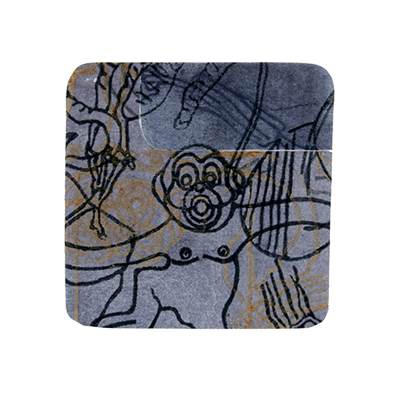 During the event small cards were produced.
The cards carried a link to the artist's website where further material in the form of images and animations broadens the landscape of the work.
The gesture of dispersing the material out into the world in the form of a give-away also expanded how the work could be encountered.
3.4 m of repaired roll showing the restored areas.
Many thanks to Piergiorgio Sator Print for his support and encouragement during this project
Andrew James 2023